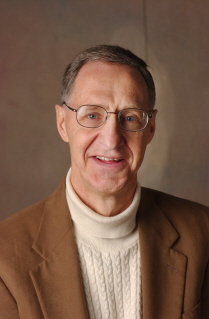 James V. Koch is Board of Visitors Professor of Economics and President Emeritus at Old Dominion University. He also has held teaching and research positions at Illinois State University, California State University at Los Angeles, the University of Grenoble (France), Brown University, Rhode Island College, Ball State University, the University of Hawai'i, the Royal Melbourne Institute of Technology in Australia and the University of Montana.
Dr. Koch has published ten books and more than 100 articles in refereed journals. His research has focused primarily upon applied microeconomics topics. His journal articles on the economics of intercollegiate athletics, the economics of discrimination and affirmative action, TQM, and the economics of education have been reprinted and cited frequently. Recently, he has done extensive work in the economics of e-commerce and the influence of managers upon employee/player performance. His research on the risk-taking behavior of corporate CEOs was funded by the Kauffman Foundation and resulted in two books, Born, Not Made (Praeger, 2008) and America for Sale (Praeger, 2009).
Currently, Dr. Koch is completing a book about Caterpillar, the world's largest producer of earthmoving and mining equipment. The book analyzes the reasons Caterpillar has been successful when many similarly situated manufacturing firms have stagnated or failed.
Dr. Koch has served as a consultant or expert witness for over fifty legal firms, corporations, and universities. His e-commerce cases have included issues such as the ordering and sale of wine via the Internet, and the value of intellectual property stolen by means of the Internet.
Additionally, he has led or been a part of teams commissioned by the presidents or boards of trustees of more than three dozen universities to evaluate the strategic position of these institutions. He has evaluated the presidents of institutions such as the University of Hawai'i, University of Central Florida and Florida Gulf Coast University. His 1996 book, Presidential Leadership (co-authored with James L. Fisher) is used as a reference and textbook in many universities and leadership institutes. In July 2004, his The Entrepreneurial College President (with James L. Fisher), was published by Praeger and the American Council on Education.
Another interest of Dr. Koch is the History of World War II; he began to teach a History of World War II course early in the 1980s and has published a series of items on aspects of World War II. His publications on WW II focus on the eastern front. He is a non-competitive runner and wishes he had more time to play basketball.
He holds a B.A. degree from Illinois State University and a Ph.D. degree in Economics from Northwestern University. He has been awarded honorary doctorates by Yeungnam University in Korea, Toyo University and Kyushu Institute of Technology in Japan, and Illinois State University.
Dr. Koch served as the President of Old Dominion University, 1990-2001. Prior to coming to Old Dominion, he was President of the University of Montana, 1986-1990. He was identified as one of the one hundred most effective college presidents in the United States in research funded by the Exxon Foundation. He formerly served on the boards of the MacArthur Foundation and the former Wheeling-Pittsburgh Steel Company and currently serves on the board of Eastern Virginia Medical School. His complete curriculum vitae may be found at www.jamesvkoch.com.