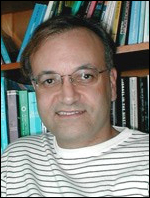 Dr. Steve Yetiv is the Louis I. Jaffe Professor of International Relations at Old Dominion University. He has been a consultant to the U.S. Departments of State and Defense; the U.S. General Accounting Office; and CNN International where he worked on a documentary that won an Edward R. Murrow Overseas Press Club Award. He has appeared on outlets such as CNN, CNBC, CSPAN, and NPR, and has published over 250 opeds, including in The New York Times, USA Today, Fortune, The Washington Post, Los Angeles Times, and the Christian Science Monitor.
Dr. Yetiv received Harvard University awards for excellence in teaching (1992 and 1993); the U.S. Secretary of State's Open Forum Distinguished Public Service Award from the U.S. State Department (1996); the Virginia Social Science Association's Scholar Award (1999); the Choice Outstanding Academic Book awards (in 1998 and in 2005); and ODU research and teaching awards.
In 2012, he won Virginia's highest research, teaching and service award, based on the rankings of 30 peer academic reviewers. To view his winning nomination package, go to the sidebar to the right, below.
Research and Books
Steve's research explores energy security, American foreign policy and decision making, the Middle East, globalization, and theory. Among his works (see sidebar to the right for more information), Explaining Foreign Policy (Johns Hopkins University Press, 2004, 2nd ed., 2011), develops an integrated and interdisciplinary approach that uses multiple perspectives to reveal how countries make decisions. The book has been used in full at more than 45 universities including Yale, Georgetown, Cornell, and the University of St. Andrews.

For more information on Steve's pre-2015 published books, including book reviews, please go to the right sidebar.
Recent and Forthcoming Books
** Steve A. Yetiv, Myths of the Oil Boom: American National Security in a Global Energy Market (Oxford University Press, 2015). This book examines the impact of the American oil boom on US and world security and global political economy.
**Steve A. Yetiv and Patrick James, eds., Advancing Interdisciplinary Approaches to International Relations (New York: Palgrave, December 2016), involves a great cast including my co-editor and co-author Patrick James who is President-elect of the International Studies Association; a Nobel Prize winner; a former President of the International Studies Association; notables across disciplines; and some rising younger stars.

For more information, see https://www.palgrave.com/de/book/9783319408224
**Steve A. Yetiv and Katerina Oskarsson, Challenged Hegemony: America, China and Russia in the Persian Gulf, 1970-2016 (Forthcoming, Stanford University Press, late 2017).