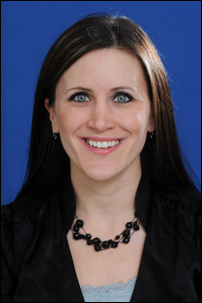 Dr. Danica G. Hays received her doctorate in Counselor Education and Practice from Georgia State University in 2005. She holds a M.S. in Professional Counseling and a B.S. in Psychology. She has served as an assistant professor in the mental health counseling program since August 2006. Prior to teaching at Old Dominion University, Dr. Hays taught courses at University of New Orleans, Argosy University- Atlanta, and Georgia State University.
She teaches a variety of masters and doctoral level courses, including Research Methods and Program Evaluation (COUN 635), Advanced Research Methods and Program Evaluation (COUN 835), Qualitative Research Design (ECI 890), Addictive Disorders (COUN 647), Principles of Professional Counseling and Ethics (COUN 601), and Counseling and Psychotherapy Techniques (COUN 633).
Dr. Hays' research interests include assessment, diagnosis, qualitative research methods, domestic violence intervention, and multicultural issues in counselor preparation and community mental health outcomes. Presently, she has over 35 articles and book chapters published or in review. Current research projects involve: diagnostic variance and misdiagnosis among counselors; qualitative studies on the intersection of domestic violence, cultural identity, and resilience; and coping strategies among culturally diverse groups. She is also co-editing an upcoming text, Developing Multicultural Counseling Competency: A Systems Approach, and serving as General Associate Editor and Content Editor of the Research and Program Evaluation section of the ACA Encyclopedia of Counseling.
She is currently an editorial board member of Counselor Education and Supervision journal and an ad hoc reviewer for the Measurement and Evaluation in Counseling and Development journal. Other service activities include executive board member of the Association for Assessment in Counseling and Education, co-chair of the Southern Association of Counselor Education and Supervision multicultural interest network, and faculty co-advisor and co-founder of the Omega Delta Chapter of the Chi Sigma Iota International counseling honor society.