Isoetes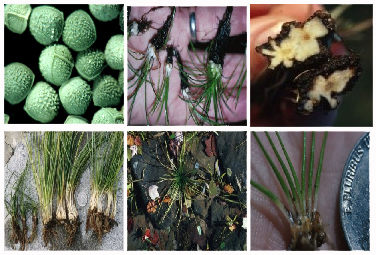 � 2013 Lytton John Musselman
Welcome to the Old Dominion University quillwort page!
The page has been redesigned. To search for a quillwort go to the ODU Plant Site and type in the name of the taxon you are looking for.
Here is a sampling of some of our research during the past fifteen years.
The Genus Isoetes (Lycophyta) in Southwest Asia by Lytton John Musselman, Mohammad Al Zein, Jay F Bolin.
The Genus Isoetes in the Southeastern United States by Lytton John Musselman, Rebecca D Bray and W Carl Taylor.
Quillworts of Southern Africa Data from collaborative research on the genus Isoetes in Southern Africa is located at this site including the spectacular green-spored quillwort!
Isoetes Spore Library This is a data base of our SEM images of megaspores and microspores. It needs much work with many more images to be added
Syrian Quillwort Poster Research on Isoetes olympica, threatened with extirpation by expanding agriculture, is here as a poster presented at FERN FLORA WORLDWIDE: Threats and Responses, June 2001, University of Surrey. I searched for this species at the type locality, Uladag near Bursa, Turkey could not locate any extant populations due to extensive development of snow skiing resorts.
Quillwort Poems The poet who wrote these is a leading field botanist of the Southeastern United States with a facile pen.
Isoetes Species Pages. We want to expand these.
Fieldwork in Lebanon has added considerably to our understanding of the distribution of Isoetes species in the Eastern Mediterranean. This short paper documents the presence of Isoetes duriei in northern Lebanon, a considerable extension of its range.
Another result of fieldwork in the border region of northern Lebanon and adjacent Syria was the discovery of a new diploid quillwort that we have named Isoetes libanotica. A New Species of Diploid Quillwort. Here are images of a rare Isoetes of the Mediterranean region Lebanon quillwort
QuillCon II April 2 and 3 2016, Concord, North Carolina
The Southeastern United States is a center of quillwort diversity with the number of recorded species doubling in the past decade or so—and new taxa being found each year. So it is appropriate that the Second Quillwort Conference should be held in conjunction with the annual meeting of the Association of Southeastern Biologists and the Southern Appalachian Botanical Society at the 2016 meeting 31 March-3 April in Concord, North Carolina.The first conference, dubbed QuillCon I, was held in Douglas, Georgia in 2000 and since that time research has expanded in terms of extensive molecular studies and field collections and also by an increase in the number of researchers, both in the lab and in the field. QuillCon II will consist of invited papers on 1 April with a keynote talk by W Carl Taylor, senior author of the treatment of Isoetes for Flora North America. Other speakers include researchers from the Smithsonian Institution, Italy, Canada, and Southeastern institutions. Ample time is allocated for discussions.
Major fieldwork in the American South the past three decades has revealed surprising diversity within this poorly studied genus. New species and hybrids have been described, other taxa have been recently discovered but not named, and numerous other collections are being studied to determine their taxonomic status. Concurrent with fieldwork have been phylogenetic studies suggesting that the genus is more diverse than expected and that resolution of polyphyly is sorely needed. While quillworts appear to have a classic pattern of reticulate evolution, we have little idea what selective factors might drive their evolution. The purpose of the symposium, therefore, is to bring together quillwort researchers to discuss lab and field findings and to collaborate on further research.
All day Saturday 2 April will be devoted to presentations and discussions with a field trip on Sunday 3 April to some of the fascinating granite outcrops in the region lead by regional isoetologist Jay Bolin of Catawba College. Warning! There is a likelihood of new species on these rocks.
For further information contact Jay F Bolin at jfbolin@catawba.edu or Lytton John Musselman at lmusselm@odu.edu or visit the meeting website at http://www.sebiologists.org/concord-nc-2016/concord-2016-symposia-and-workshops/
---------------------------------------
Lytton John Musselman
18 February 2016 page update