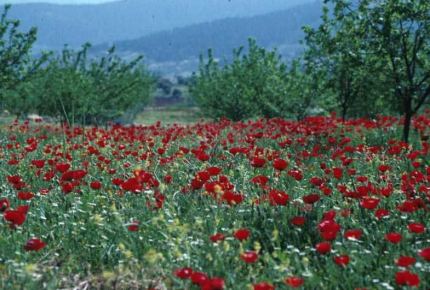 Orchard with poppy (Papaver rhoeas) between Jerash and Anjana, Jordan. April 1998.
Introduction to the Old Dominion University Bible Plants Site
Welcome to the Old Dominion University Bible Plants Site. Both Bible plants and other plants native to the Middle East are located here. Select one of the options below.
Most of the plants of the Qu'ran are included, several are discussed below in the Lectures and Articles.
---
All the Plants of the Bible. Click Here
A working document, this is a list of all the plants (including fungi) referred to in the Bible. Plants are listed alphabetically by their common name. When available, I have included treatments from Bible dictionaries contributed by George Edward Post (1838-1909, see biography at The George Edward Post Site )
Figs, Dates, Laurel, and Myrrh: Plants of the Bible and Quran. 2007. Timber Press. This volume includes updated treatments of most of the plants included at this site. However, this web site includes most of the Bible references as well as more images than the book.
Lectures and Articles. Click Here
Included here are lectures delivered at the American Center in Damascus, articles that first appeared in the Campus News University of Jordan (an English language publication of the university), and PowerPoint presentations.
---
Lytton John Musselman
19 February 2013