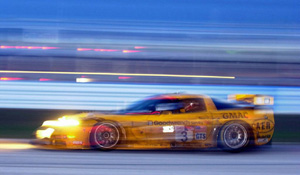 What is Motorsports?
"Motorsports" is the name given to the sport industry that deals with the business and the technology behind terrestrial-vehicle-racing.
Like any other sport, it involves competitions among teams. The rules, regulations and race-car specifications are established by the "Motorsports Clubs" that organize the competition events. There are hundreds of motorsports clubs in the world.
...MOTORSPORTS IS A DYNAMIC INDUSTRY....
In the United States there is a selected group of clubs that draw the largest crowds of expectators, and the best crews, drivers, businesses, and sponsors the motorsports industry has to offer (See links on the left side of this page).
Motorsports clubs normally abide by general guidelines of international character promoted by the FIA (International Federation of the Automobile). The FIA is the governing body of motorsports worldwide.
Motorsports is a dynamic industry in the USA and worldwide. It attracts countless businesses and sponsors and it offers a multitude of career opportunities for engineers, scientists and technologists.
Brief History of Motorsports
Historically, motorsports competitions were established as a means of determining the performance and reliability of engines and automotive vehicles.
The first auto-race in record, was organized by Le Petit Journal (France) in 1894. This race was a contest between vehicles invented and manufactured by famous names in the automotive field such as, Karl Benz and Gottlieb Daimler.

In the United States, the first auto race took place in Evanston, Illinois on November 28, 1895. The race was sponsored by the Chicago Times-Herald and it was used to demonstrate opponents that the "horseless carriage" was to be recognized as "an admitted mechanical achievement, highly adapted to some of the most urgent needs of our civilization."
THE WINNER OF THE FIRST AUTO RACE IN THE U.S. AVERAGED AN "IMPRESSIVE SPEED" OF 7.3 MPH.
The winner was competitor Frank Duryea who was awarded the first Vanderbilt Cup. Frank and his brother Charles subsequently founded the Duryea Motor Wagon Company. This was the first American company that built gasoline-powered automobiles in the U.S.

Since then, the motorsports industry has achieved an unprecedented level of technical sophistication and complexity. Motorsports focuses on driving skill, speed, and the efficiency, reliability, and safety of vehicles that operate under extreme conditions.
From its humble beginnings, motorsports has been and continues to be at the vanguard of vehicle design, manufacture and testing. Motorsports currently requires high-level engineering, meticulous research, and state-of-the-art technology.

Motorsports is often percieved and catalogued as entertainment. However, starting with the first car-race in record, motorsports has been and continues to be the field where the automotive industry demonstrates vehicle performance, and builds up the prestige of their car makes and models.