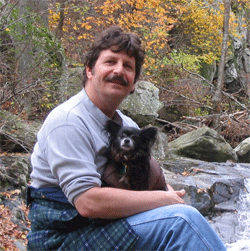 Dr. Sussman and his diminutive companion Hootie at Graves Mountain, Virginia.
Glen Sussman, University Professor of Political Science
Affiliate Faculty member in the Graduate Program in International Studies (GPIS)
Affiliate Faculty member in the Mitigation and Adaptation Research Institute (Sea Level Rise), ODU
Professor Sussman received his Ph.D. in political science from Washington State University. He joined the faculty at Old Dominion University in 1992 where he teaches undergraduate courses in the field of American politics. As an Affiliate Faculty member in GPIS, he offers three seminars - - Global Environmental Policy, Politics of Climate Change: Comparative Perspectives, and Comparative Political Behavior.
His research focuses on environmental politics and policy and the politics of climate change.
He is currently working with two colleagues on the 2nd edition of their co-authored book, American Politics and the Environment (Longman, 2002). SUNY Press offered an advance contract in support of the project.
He is also working on a survey research project that involves state legislators in coastal states and their political orientations about sea level rise.
Professor Sussman's scholarship and professional activities include 5 books, over 100 journal articles, book chapters, professional papers and research essays and approximately 100 lectures, interviews, panels, and speaking engagements.
He served two terms as chair of an eighteen member department, 2000-2006.