Hydnora
The Strangest Plant in the World!!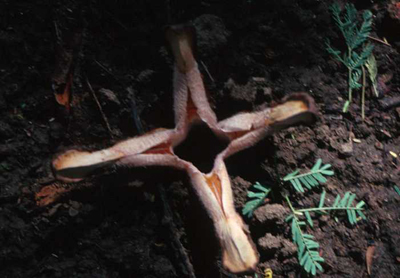 Well, maybe not the strangest plant in the world, but certainly one of the most bizarre. This site includes pictures from our Hydnora and Prosopanche research as well as texts from published work and a bibliography of my papers on the genus.
Be sure to check Tennakoon, K. U., J. F. Bolin, L. J. Musselman, and E. Maas. 2007. Structural attributes of the hypogeous holoparasite Hydnora triceps Drege & Meyer (Hydnoraceae). American Journal of Botany94(9): 1439-1449 with the cover of that issue featuring the award winning image by Jay Bolin.
See the PowerPoint presentation on Hydnora Secrets of the Kanikwa
Lytton John Musselman
19 September 2008
Hydnora Field Work Winter 2002
Natural History of the Strangest Plant in the World 28 August 2003 PowerPoint Lecture